1880 Census
Hume, Allegheny County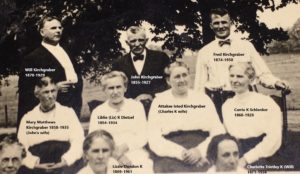 Father left a memoir that he began writing in 1984, four years before his death. He states below his reasoning for writing it. He felt he knew too little about his Dad's early life.
"Recently a distant cousin of mine on my father's side decided to make up a Family tree and requested information from me about our Family background. It was surprising how little I knew of my Father's early life. He never discussed his early youth or his teen years. I knew from things that he had said that he was born in Macedon, a little village near Rochester New York. I knew that his mother had died when he was only three years of age and that his father remarried. I found out that in his early years that he had gone to live with two maidenly ladies and had spent many happy years with them. What his education was or his schooling or ambitions were for later life I never learned and never took the time to discuss or ask him about it. As I grew older and after my Father's demise I thought how little I really knew of him. I had loved him dearly during his life yet knew so little about him."
His memoir prompted me in 1990 to dig into the family history which I have documented extensively on my family tree page in Ancestry.com.
My brother-in-law Ed Culliton had a good starter database that he had compiled in a GEDCOM format (Latter Day Saints program) which I imported into Ancestry to help frame my research. I also had obtained many black & white negatives from Dad which I scanned and saved in digital format. Yet I had no pictures of Grandpa's siblings and little information on their lives. My work with Ancestry over the years has helped put the whole family into better focus. Dad's paternal side has been augmented from newspaper articles that are found in an online website named Fultonhistory.com. The site had digitized millions of pages of newspapers from New York State. The news articles helped me discover stories, obituaries, weddings, births and other data which was otherwise lost to our family. Still, I had no photos of Grandpa Kirchgraber's siblings.
All that changed when my sister Mary Lou put me in touch with Anna Page from Perry, NY. Anna's mother, Anna Barbara Kirchgraber was the daughter of Charles Kirchgraber, grandpa Kirchgraber's brother. Anna has remained in the Silver Lake/Perry NY area all her life. The annual Kirchgraber Family reunions were held in that area, and Anna, now 91, also had an album of photos her mother had taken over the years. Her mother, who raised her family alone after the death of her husband in 1937 when Anna was only 11, not only took the photos but maintained her own darkroom for developing and printing. The photos were meticulously labeled and filed in an album. I was fortunate to copy a few of them and it gave me a much clearer look at life in Perry NY in the early 20th century.
——————————————————
1910 Census
230 Benzinger
——————————————————-
1920 Census 230 Benzinger
( a house full- 10 entries! )
————————————————
1930 Census