Bill and Katie McMahon were both children of Lizzie Conway and Henry McMahon.
They both lived on the family farm when I was a boy in the 1960's.
Lizzie was a daughter of James Conway of Genesee falls and you can see that family's history on the Conway page.
That meant that Bill's mother and Dad's grandmother were sisters.
The Irish felt free to visit a relative at will, no matter how distant the relationship. Since Bill and Katie were second cousins to Dad he was pretty close to them, having spent summers in Birdsall as a boy.
The following photos were taken over many years of fun weekends at McMahon's, both winter and summer.
————————————————————————————–
————————————————-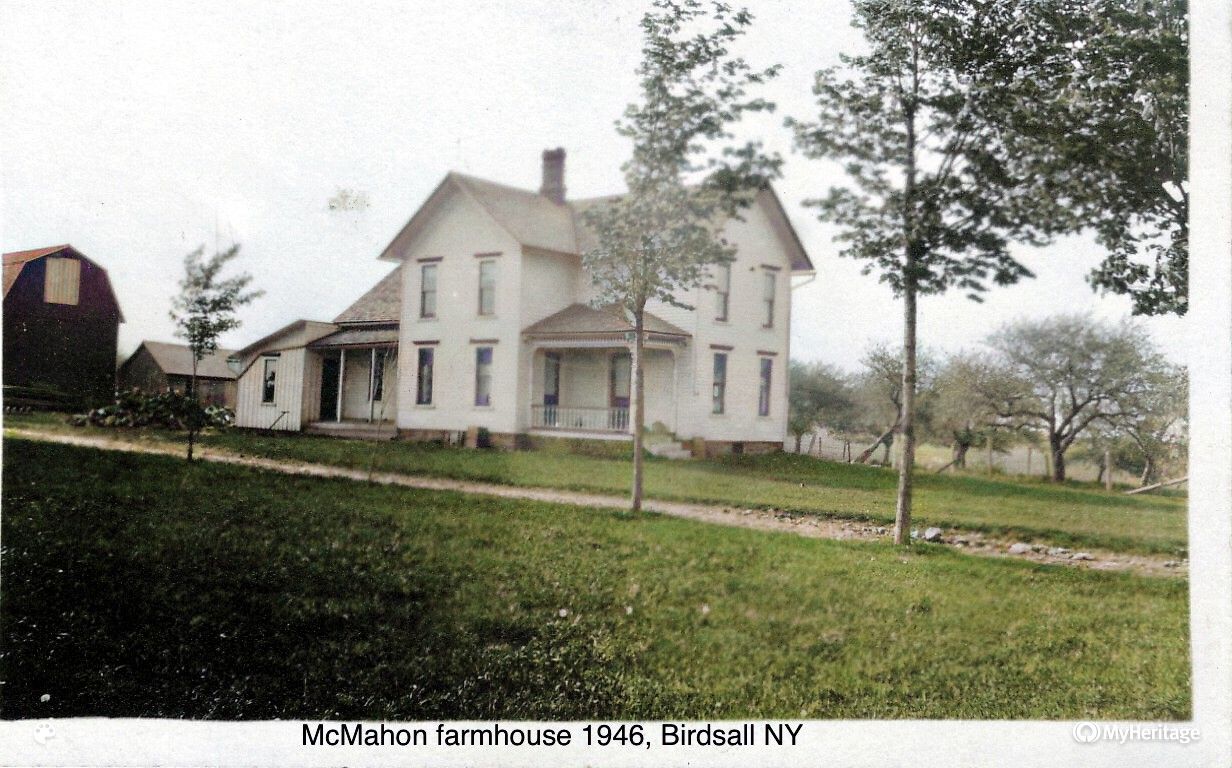 The McMahon farm house ca 1961
Dad's 1959 Chevy at right in photo also farmhouse in 1946
—————————————–
Property in a 2014 Landsat image
Barbara Carney Kirchgraber at the farm, December 1968.
Looking for our Christmas trees at McMahon's.
Jean in blue & yellow scarf
Bill McMahon at right of photo
——————————————————-
In the late summer of 1963 (or 62) we went to the farm to help Bill and his brother Jim bring in the oat harvest. The experience was a once in a lifetime as we got to see an old McCormick thresher in action. We all worked hard and enjoyed a good home made farm dinner later on
Jim McMahon loading the sheaths of oats into the feed conveyor of the thresher
The thresher and barn in the background.
All the years I went to the farm the silo was always empty.
————————————————————
Dad, Jim McMahon & me and loading the sheaths on the wagon
Bill McMahon drove the tractor
————————————————-
Mc Mahon Sugar Shack, Fall 1966
I made maple syrup here with bill in March of 1965
———————————————
Sue & Mark Kirchgraber, 1966 on thresher
—————————————————
Jim McMahon and Dad
——————————————–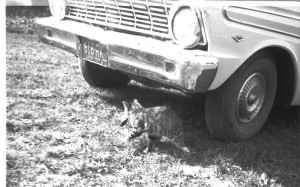 even the cat had a tasty meal on the farm- 1966
—————————————————————
Bill always had work for the city folk to help with. On this particular fall day in 1966, the job was to bury the horse. Note that Ebbie wound up on the working end of the pick & shovel. Bill tied a chain to the horses legs, hooked the John Deere up to the chain, and pulled the horse into the pit. The final ceremony was a 2 slug salute as Bill put two deer slugs into the horse. (Always wondered why he did that after the horse was already dead, but he explained later it helped to vent gases from the carcass)
—————————————————————
This photo was taken outside the cow barn, the building to the left is a utility shed.
The man in the photo is my grandpa Fred Kirchgraber.
—————————————————————
Michael, Henry, John & Margaret Shaughnessy McMahon