---
For My Children
By: R. Norman Kirchgraber
March 27. 1984
The First Fourteen Years
Some people write a book because they have a story to tell. Some have adventure that they wish to relate. Others have been important personalities that wish to leave a memento of their lives for posterity. I have none of these.
Recently a distant cousin of mine on my father's side decided to make up a Family tree and requested information from me about our Family background. It was surprising how little I knew of my Father's early life. He never discussed his early youth or his teen years. I knew from things that he had said that he was born in Macedon, a little village near Rochester New York. I knew that his mother had died when he was only three years of age and that his father remarried. I found out that in his early years that he had gone to Live with two maidenly ladies and had spent many happy years with them. What his education was or his schooling or ambitions were for later life I never learned and never took the time to discuss or ask him about it. As I grew older and after my Father's demise I thought how little I really knew of him. I had loved him dearly during his life yet knew so little about him. I made up my mind that I would leave for my children some of my doings, thoughts and recollections during my lifetime and before my children began to remember me as just their Father.
230 Benzinger ca. 1930
I was born at 230 Benzinger Street, Buffalo, New York, on February 10, 1906. I was attended, or rather my mother was, by lady doctor by the name of Bowen. She made no record of my birth for the City register and it was not until I registered for grammar school that I discovered that as far as civil records were concerned, I did not exist. I had to use my baptismal certificate from Visitation Church to show that I really was part of this world. My grandmother Bridget Conway Dundon told me that the day I was born was one of the warmest on record.
RECENT PHOTO OF 230 BENZINGER FROM GOOGLE MAPS
Although most children have their earliest recollections of their mother, mine seem to center around my father. That was probably so because my father, who was a railroad engineer, was often away for what seemed endless periods of time. There were no sixteen or eight hour days for workers, and railroads had the habit of recalling them for work almost before they had had their first meal home. We had a wall phone -Frontier -there being two phone systems those days. My Father was ordered to work by a Caller who would come to the house and advise him when and where he was to report for work. Often it would be at Tift Farm. There was no direct line of street cars from our section to there and often he was compelled to walk. It seemed that I saw him so little I just looked forward to his return with the greatest anticipation.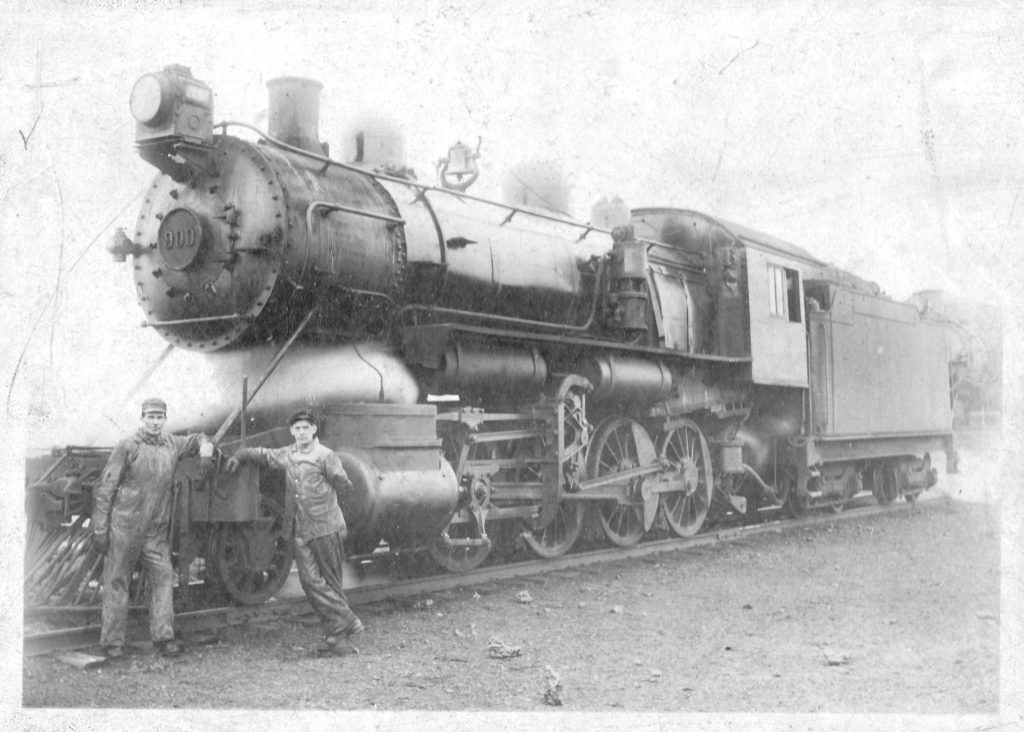 Fred Kirchgraber and Fireman Johnny Lux with LV-900
My mother was of the old pioneer type -strict, a hard worker and a good nurse. She never liked to travel. Her home was not only her castle but her recreation-vacation and place where she seemed to be most happy.
I just loved the outdoors -and still do. When I arose in the A.M., my mother used to put my cap on me so that I would be assured that as soon as I had my breakfast I would be headed out.
Our home consisted at that time of only two bedrooms. They adjoined. You had to go through my mother and Father's bedroom to enter ours.(Actually, Dad shared a room with his brother Al in a room made under the front stairway. An earlier day Harry Potter -editor's note)
We had a kitchen with an old-fashioned stove which was connected to a hot water boiler. We had hot water when the stove was going. We had no furnace . In fact, I was in High School when what was known as a pipeless furnace was installed. Before that we had a coal heater in the living room -no heat in bedrooms, except what Filtered in between my parents' room into our room from the living room. The front parlor which adjoined the living room was closed during the winter months. Most nights during the winter I was encased in long wool Johns and when I crawled into bed about the only thing I removed was my shoes. We had a feather bed below us and a light one over us. In those early years I always slept with my brother who was four years older and I always got the impression that I was a pain in the neck to him as are most younger brothers. Our medicine for the winter months consisted of cod liver oil, goose grease and turpentine. When we got a cough I received a generous tablespoon of goose grease with sugar on it to make it palatable.
I never seemed to lack for playmates in my preschool days. I was always one to travel in gangs. We would have snow ball wars with neighboring streets, build snow forts, snowmen and go skating. Our house was only 90 feet from the creek. At one time it was so wide and deep that you could catch Fish in it and I remember a few drownings in my youth. The creek originated somewhere in Sloan, New York and came across under Benzinger Street and then on through to Ideal, Longnecker and cut across Greene Street near our present residence, then along over Bogardus to under Bailey. It came out near William and Babcock.
Our house on the west side of Benzinger Street, next door on the north was an old cottage, nothing but two vacant lots on the south. The west side of the street was more built up. There were a few buildings on the east in the block between Lovejoy and Vanderbilt Streets. Later a builder by the name of Beecher purchased the tract across the street and built up most of that side of the street. If you wished to help Beecher in his construction you would be permitted to lathe, provided that you furnished your own hammer. Of course, there was no compensation -just the fun of it. I have seen as many as ten kiddos lathing at one time.
Many of the sidewalks were wooden planks and a lot of the blocks along Vanderbilt Street had walks constructed of such planks. They finally ended up in one of our election fires along with some then existing outhouses and wooden fences.
There is some confusion in my mind if I entered Visitation Grammar School when I was five or six. The picture of our first grade class has the date of 1911. I remember we sat in double seats and that the gal next to me used to wet me regularly. Each of the four classrooms had two grades.
It was in my first year that I contracted scarlet fever. I caught it from Charlie Hanson, a neighbor boy and a friend of my brother's. I was terribly ill. My Grandmother used to give me what were then known as hot packs. It consisted of taking off all your clothes and then being wrapped in a wool blanket which had been rung out in a tub of hot mustard water. You were then wrapped in other blankets until you perspired for some half hour.
Dr. Trotter who attended to me in a cutter during those winter months used to bring his daughter, about my age with him in the cutter. She contacted it and never made it. I did. Every bit of skin on my body peeled off me. And there lies the confusion.
I did not graduate until 1920 which might indicate that I lost a year during that illness. My eyes, nerves, etc. were just ruined. I remember my mother taking me to a neurologist and that I had to have glasses. I have to thank my grandmother with her old-fashioned treatment for pulling me through. For months afterward I would go to sleep and have nightmares. Then finally I began to pick up.
My summers were farm bound.
I began to spend my summer months in the country. At first I had violent headaches and then as if by magic I cleared up completely. I was my old self. Many summers I spent at my cousins the McMahons in Birdsall. My Grandmother Dundon had sold her farm and prior to that time I had spent some time with her.
McMahon's farm ca 1942
Lou on horse, Bill McMahon, Dorothy, Bob & Dick
One summer Orville Rowan, a schoolmate, spent a summer at my Uncle John's in Silver Springs. I am afraid we were quite a nuisance. We would do almost anything to avoid work. One night we even took a dose of salts so that we could get out of the hay mow. My Aunt Mary was most kind. Her meals were something to remember. For breakfast it was cereal, sausage or bacon, potatoes and always homemade fried cakes and cake on the breakfast table. I recall on one occasion we went to Silver Lake to the skating rink. We were merrily cutting in and out of the crowd when one attendant yanked me off the floor, another sat me down and took off my skates and still another handed me my money back and said we were not wanted. My friend Orville was treated the same way.
Orville was my constant companion while in grammar school. His folks ran a candy store and by hitting the till he always had some spare change. One day we purchased with his ill-gotten gain a whole cream chocolate pie and we went back of a fence and finished it. Still another time a cream lemon pie with real whipped cream on the top. Both times we were sick and to this day I dislike either pie. We both fought constantly. Not that we were mad at one another, but just to keep in shape.
I do not think a day passed by that I did not have a fist fight with some one. A lad by the name of James Dysinger whose mother was Irish and myself were the only ones in the entire school that bore German names. All of the others were Irish. If some of the upper classmates were too big, two of us would tackle him. It was the same way living on Benzinger Street. You either fought or got a black eye anyway. I always seemed to have a gang with me and was never without loads of friends. Talk about fighting at the drop of the hat -we would go looking for it.
One snowball fight between Gold Street and Benzinger Street some of the older ones decided to end it with air rifles, led to police intervening and arresting many of the older ones. Not for court appearance but they would be brought in before Captain Morrisey who was prosecutor, judge and jury. He would call in the parents and that would be sufficient punishment. No one ever ended up in court.
Lovejoy in those days had one grocery store at the corner of Benzinger and Lovejoy Streets. It still stands as a store to this day. Back of the store was a barn for horses and a bar. His cutters were a constant source of enjoyment to us in the winter. His front store, where he placed the vegetables and fruit outside for display, was a constant source of our snacks. His was the only grocery store on Lovejoy Street. He opened at 5:00 A.M. and heaven knows when he closed. Cash was seldom paid for purchases. Most of the residents who were in some way connected with the railroads ran a Book. Not as in gambling, but each customer was given a small note book on which was entered your daily purchases. Paydays were mostly once a month. Then he would add up the bill and accounts would be settled. A bag of fruit would always be given free on each monthly payment. He owned most every available corner in East Buffalo where a store might be apt to locate. Across the street was the only meat market where the same procedure would prevail. A wiener or piece of sausage would always be given to the children on each purchase and liver was given free for the cats. My mother always kept chickens to help out the egg and meat supply and Dad always had a wonderful garden.
Life somewhat changed as I was receding from my illness. My Aunt Dell, sister to my mother, was very kind to me. After my bout with fever she purchased for me a canary which I dearly loved. I always had a cat but was not permitted a dog. My grandparents, when I was about 13 years, sold their farm and moved to Buffalo with my Aunt Dell who was still single. I remember her wedding well. (Della and Oliver were married on Sept 13, 1911) Soon after her wedding she moved to Vermont to take up a nursing position with her husband who both worked in the same hospital in Brattleboro, Vermont. My grandparents had to take back their farm and until they resold it they remained in Dale, New York on the farm. After they resold it they moved back to Buffalo. My dad had remodeled the upper story and put in a toilet room and they moved in with us. About that time my Aunt Dell had a baby girl -Ruth Phillips. Things were not going well with them in Vermont so my mother and Dad went to Vermont and brought Ruth back with them. She remained with us until her mother remarried when Ruth was about 9 years of age.  (Willena, Della's youngest daughter said that Grandpa Fred and Uncle Hank Dundon brought Della back from Vermont)
Her father died shortly after Ruth moved to Buffalo and my Aunt was pregnant with Bud (Henry). He was born at our house (in July of 1915 ) and also stayed with us until the marriage of my Aunt (1920). In the meantime my Uncle Henry Dundon, Hank to all that knew him, moved in. My Grandfather Michael never seemed well after he moved in with us. The Great World War I came on and he hated the English. He was hard to keep quiet about it. It was rather odd to me that it was brought up in an Irish-German neighborhood and of the same parentage to see the Germans depicted as Huns. Those I knew were kindly shopkeepers. Once a week the old German Band with their tubas would appear in the street -usually in front of some saloon and play a few tunes. I recall on one occasion of a Mrs. Kolb who was a customer old Lichtenberger saying to him that her husband was out of work and that she did not know how she was going to pay her city and county tax. It was not until sometime later, and after her husband had returned to work, that she ascertained that Lichtenberger had paid her taxes in full.
He professed no religion but each month his contribution would appear on each of the local church reports.
My Uncle Hank in those days was my source of money supply. I never wanted for a baseball bat or glove or other things when I told my uncle. He would always produce but not without a price.
He was a great funster and on each occasion took an I.O.U. from me for the amount involved and which he saved throughout the years and produced for me on my 21st birthday. Needless to say I never expected to and he never expected to receive payment.
Each summer he would line all the kiddos in the back yard and give them a baldy haircut. One time he collected all the cats that he could from the neighborhood children and paid 25 cents each. He kept them in my mother's old chicken coop and fed them liver each day. In a couple of weeks he had collected some
twenty cats. Finally when he had his eye on one of the neighbor's breed cats, he was compelled to let them go.
An old German peddler was always the brunt of our purloining. He traded pots and pans for bags of rags. One time he was lured into a back yard, the gate closed on him, his rags stolen to sell to the next peddler. My uncle observed the performance and suggested to him, even though his own nephew was involved, that he call the police which he did and if it was not for my mother we would have all ended up before Captain Morrisey.
School discipline was strict. A bell rope was used across the hands or legs and many the times my wrists would swell where the rope had twisted around my wrists. Not that I did not deserve it. I was no angel. For fights in the school yard you were seldom chastised, but in the classroom no fooling was tolerated. I remember taking on a lad in the schoolyard some six inches taller than me and giving him a fine licking. I remember noticing that I had been observed by one of the sisters. I thought that I was in for another beating when I came into school that day. Instead the sister said I see you gave that Bully what he deserved. Obbie Doyle was considered one of the best scrappers. He remained throughout grammar school a friend to me.
I never knew and never tried to see if I could take him. I only know that it bothered me a lot. Still we had so often gone up together against some older boy that I did not want to disrupt the Friendship. Later in life he died as he lived, in a barroom brawl.
About the time of the lst World War -1914- the old neighborhood began to change. The Irish began moving to South Buffalo, the German Immigration to Buffalo had ended and the Italians began to move in, first near the Cheektowaga Town Line, and later throughout the neighborhood. The Pullman shops (NYCC RR shops) which were one of the main sources of employment began to lower their pace.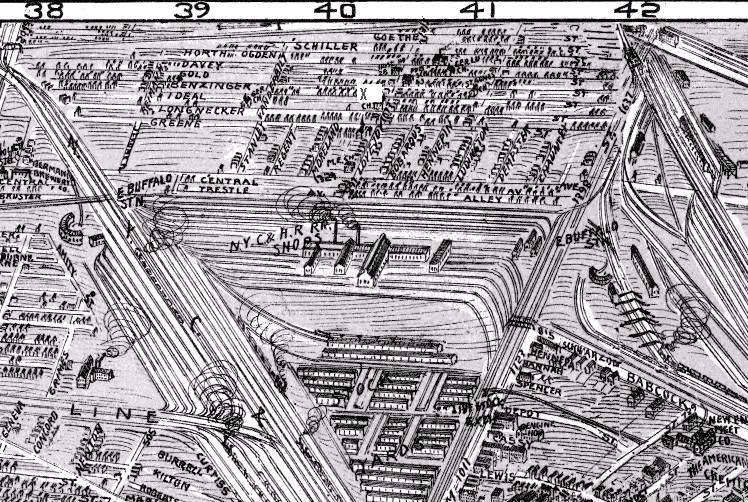 Map of East Lovejoy at the turn of the century.
North is to the left of the image. The NYCRR Pullman shops are in the center of the photo. The east Buffalo RR Station at Babcock Street can be seen at the lower right of the map. Grandpa Kirchgraber's home at 230 Benzinger is located near the top of the map between 40 and 41 where the x marks the location.
The Fish market at Ideal and Lovejoy Streets closed; the Super Markets began to appear; the First National Tea Company (later A&P) opened a store some one hundred feet west of Benzinger Street on the north side of Lovejoy Street. A bank, the Marine Midland at Lovejoy and Ideal Streets, took up residence and is still located there. The old millinery shops began to close to be replaced by 5 and 10 cent stores.
The old Rat Run, as the movie house at the northwest corner of Davey and Lovejoy Streets was called, was closed. The Rat Run was so called because it was erected with a wood frame and you could actually see an occasional rat gnawing at the popcorn spilled on the floor; fire regulations there were none. The admittance was 5 cents. We would stand outside and after collecting 5 pennies would have the price of admission.
The aisles were packed with kiddos to a point where you were virtually standing on the kiddo next to you. The movies were silent and a piano player would increase the crescendo for galloping horses or slow it down for a love scene.
Finally the same owners on my 1Oth birthday opened a brick theater on the south side of Lovejoy Street near North Ogden. The building now houses video games.
My 1Oth birthday was a memorable event. I always had to have a birthday party. I had stationed one of my friends at the door and anyone who did not have a present was not admitted. One kiddo I remember we sent home to get a quarter. Talk about the mean little kid. I was It. My mother finally to get rid of us
gave us the price of admission to the new show. I think it was a Harry Carey western and they played On the Trail of the lonesome Pine. We were always watching the stunts of the new aero planes. I saw my first at Front Park along with a parachute drop. I tried it off the back roof with an umbrella and had a sprained ankle for a month. I might as well have jumped for all the good that the umbrella did to break my Tall. I tried the same trick again off the roof of the store at Longnecker and Lovejoy Street in a snow pile and again ended up with a bum ankle.
Finally the scene began to change. Grandpa Dundon who had never been too well died in June of 1919. How old he was only a good guess. From his naturalization papers I figured him in the late eighties. He did not read or write and got more morose as he aged. He and Grandma and all my friends called me Noney. He was always nice to me and told me many stories about Ireland and its Little People. How when he lived in New York he was offered during the early Civil War $100.00 to take the place of a draftee. Just when he moved to Portage and Warsaw I am not sure. I know that Grandma and Grandpa Dundon were married in Portageville the last year of the Civil War. Evidently the marriage arrangement was made before my grandfather came to the US. I recall my grandma telling me that one day when she was some 16 years of age her Father called her and said to her Bridiginne I want you to meet Michael your future husband. You will be married 60 days from now. My grandma said she was so scared that she went and hid for some time in the barn. It must have worked out all right as they had ten children and were married 54 years when my grandfather died.
Two other incidents of note during those years were that during my illness we were quarantined. My father was only permitted to live in the same house by the Board of Health by sealing off the room where my father lived. My mother was not permitted to go to the grocery store. The same were ordered and left on side steps and when the ordeal was over the same Board of Health came and fumigated the rooms I had occupied.
Another was the fish story. I had caught some fish and one of them was not injured so he lived in a tub of water for several days. Then much to my dismay I found him floating on the water. I took him into the kitchen near the flour bin, and tried to give him a dose of castor oil which my Mother would always give me for anything. The fish slipped out of my hand and I could not find him. Several days later foul odor began to emanate from the kitchen. My father found the fish. Where? In the flour barrel.
The Flu hit us in 1918-1919. I had it but was not too sick. My grandma again, the same old cure, only this time she added packs of cooked onions in a poultice to my feet to draw out the fever. You could not get a doctor and people were being buried in trenches. You were compelled to wear a mask in public places!
Theaters were closed. Public gatherings banned. It was a horrible time.
Finally in June of 1920 I left Visitation for the last time.


RNK (CENTER OF PHOTO NEAR BOARD)
DATE ON BLACKBOARD SAYS VISITATION SCHOOL,
GRADES 7-8, MAY 20TH, 1920.
POEM ON THE BOARD TO THE RIGHT IS "IN FLANDERS FIELDS"
I did not know it at the time but that summer 9th grade, then, First year High, was discontinued. And I set off to make my fortune. Maybe not for some people but for me it was an exciting time. I recall my grandma in the summer when she would take me on one of her summer tours -going to the station and buying one adult ticket to Depew and riding all the way to Garwoods, near Hornell. I was afraid we were going to be thrown off but her son was dispatcher on the road and she always said "the Riordan Boys will not bother me" -and sure enough they did not.
An early 20th century image of Visitation Church & Rectory. Those familiar with the parish will recognize that the third floor was still on in this early photo. It was later removed to stabilize the building, leaving only 2 stories and a flat roof (see photo below)
——————————————————————————
The Next Four Years
With the World War over and another catastrophe finished we went into a second which was just as demoralizing as the War. That was Prohibition. During the First World War it was enacted primarily as so-called grain conservation. That amongst many of the other measures enacted during the War did not work out. You were rationed on many items. Prohibition became the root of the gangster. Organized mobs demoralized police forces and other law abiding citizens. Canada did not have it and all you had to do was to go across the border and consume all you wanted. Running Rum as the prohibition violators were called became a national past time. It got to a point that even the dispensers of soft drinks that were used to mix drinks became the subject of scrutiny. It led otherwise decent people to mix with the racketeer. They were invited to social events and became millionaires over night. New York State had repealed its prohibition laws and the local police were loath to enforce the dry laws.
Well, 1920 became an eventful year for me. I never did officially graduate from Visitation. I was given a diploma in September of that year which showed that I had passed the required subjects to enter high school. There were only five public high schools at that time. I was unsure what I wanted to do. I selected Technical High School, then located off William Street across from the Emergency Hospital (now Sheehan Memorial on Clinton St.). I enrolled in a technical and college entrance course although at that time I had no idea just where I was to get the money to enter college. I at 14 years of age could obtain working papers which restricted me to certain types of work. I had no friends to help me so I started down Main Street in Buffalo and entered about every store to see if I could get a job as stock boy.


I finally ended up at the old Walbridge Department store then located on Main Street near where the present site of the Erie County Savings Bank is located. I remember talking to a Mr. Bowen at that store. He did the hiring. He said that he could I give me a job as a stock boy in the Sporting Goods department. I was to receive $6.00 a week for six days work, 8 to 5 P.M. each day. I readily accepted. It was the best offer and only one I had. Car fare cost me ten cents a day. I took my lunch and ate it in what was then known as a One Arm Lunch -so-called because the seat had an arm which could be used as a tray to eat on. I would purchase a glass of milk for 5 cents which left me at the end of the week with about $5.00. This usually ended up with my mother. I spent the summer there so had at least a start. I entered high school in the Fall of 1920. I carried a heavy schedule. Shop was mandatory as was mechanical drawing. I did not mind shop. During the four years I spent there I took carpentry, wood turning. machine shop and always drafting. I was no good at mechanical drafting. I completed the required course but just got by. I became good in English, languages and history. I passed with one of the highest marks in history -97 -on a Regents exam. Math was another subject which I became adept in. I took intermediate Algebra, Geometry -plain and solid, logarithms and some calc. The latter not as a subject. Just a fill in. I was exceptionally good in solid geometry. Intermediate was a rough subject for me but I made it.
The second year in High School was the year I had it pointed out to me that it was not just a fun place. I had the idea that High School was initiated for my amusement. In my second year English class I encountered my master. H.O. Gibbons -later to become the head of the language department of the entire
educational system in Buffalo. He taught me not only English, but morals and manners. He would start out his new class by saying my initials are P.I.G. My mother was Patricia I. Gibbons -P.I.G. He never cracked a smile. He later perhaps influenced my life more than any other high school teacher. He was a former minister.
Guess I thought I was the funster of the Class. On one occasion, one I sincerely regretted later, we had a vote on who would become the President and Secretary of the Oral English I Class. I had before hand thought it would be a great joke to nominate and elect the Bollinger twins. If there were ever two bashful-shy gals they were it. Even in those days I had a smatter of politics in my blood. I had before hand enlisted a few other of like mind and when I made the nomination it was almost unanimously adopted. At the end of the session, Mr. Gibbons requested me to wait. In a nice way he made me feel like two cents. He said I had embarrassed two nice gals and that not only that I had given little thought to the future of the Oral English Class. He told me that at next session he wanted me to vote to rescind the nomination and election of the Bollinger twins and to see that someone was elected to fulfill the position that was capable of running it. I had the brains to apologize to him for what I had done and at the next meeting Mr. Gibbons requested the class to select me as President, which was done.
He taught me more about behavior and good manners than any of my other teachers.
Another instance was that in one of my advanced English classes I was in the habit of wearing a hand-made bow tie. My mother tied it for me in the morning and then during the day some smart aleck would undo it. My class teacher was Miss Graham -an excellent English teacher. She had assigned to us a pick as you wish subject for our next class. I selected the "smelly goat"
You can see I still thought that was the smart guy of the school. She called me forward and said, "Mr. Kirchgraber. You are to recite your essay on the "Smelly Goat" and if I see one smile on your face during the recitation, I will keep you in Jug for a week." It was difficult to recite but I finally did it. But that didn't mean that at its conclusion the class did not laugh. They sure did. Miss Graham told me she wanted to see me at the end of class. I thought I was going to get to get Jug after all for the subject that I had selected. She said, "Mr. Kirchgraber, I like that bow tie that you wear, but I am tired of seeing you come into my classroom with it untied." I told her that I did not know how to tie it. She said "you will stay here until you do." She showed me before a looking glass how to tie it and to this day I tie it backwards.
A few months from the end of my fourth year Mr. Gibbons called me in and said, "Norman I have been going over your various marks and note that you do not show any aptitude in your mechanical subjects, particularly your mechanical drawing. Your marks in English languages and history are very good. I do not
think that you will ever make an engineer. I suggest that you would make a good lawyer." It was the first time that I had even thought of it. He told me to give it some thought. At that time you needed a Qualifying Certificate to study law. That meant that you had to have an average of 85% during your four years. I
did so qualify.
High school was a happy time for me. I think it was four of the happiest years of my life. High school was no great effort for me. I enjoyed the swimming classes then held at 32 School across the street and learned something besides creek swimming which is what I first learned after being thrown in the lake at
the brick yards at the old Buffalo Pottery Works on Bailey Avenue near Clinton. I enjoyed the dances we had. It was in my fourth year at Tech that I met your mother. That is, I seriously began to take notice. I had first met her, although she perhaps does not remember, at a party at Sisti's on Benzinger Street and recall her brother Archie coming to pick her up. Guess I never from that day on really liked him .He had spoiled my chances of becoming better acquainted. Oh well, I made up for that later. Before my school years are left in limbo… I recall a gal by the name of Charlotte Little who used to draw beautiful pictures of gals in the front of my class books. Also Hooper Bunch. I considered myself quite a wrestler, then only 135 lbs., but I was wiry. I took him on for about one day. He was a member of the football back field. I did not get far but at least I tried. By that time I had quit my fist fighting and took to wrestling someone more my size. I loved tennis. I was never very good at it but liked the game. One of my friends, "Bud Bardey," used to call me "Old tanglefoot" every time I tripped on that old clay court. Ice skating was a must during the winter months. I practically lived on the ice. I made a habit of doing my homework as soon as I got home from school. Then it was off to the ice pond. I became a good skater .Hennepin Park was our place to skate and the evening lights would be turned off at ten o'clock and if the keeper was not around we would just keep I
going. After skating, if I was in the money, which was not often, I went to Glascotts' then across the street from me, that is, where I now live (1037 Lovejoy), and have a hot chocolate and in the summer it was a Mexican sundae. Once in awhile I even had enough extra, then ten cents, to buy Dorothy one.
The summer before I got out of high school I obtained a job at Ferguson-Allen, a tank manufacturing and repair shop on Bailey near Clinton. $16.00 per week, I was rich. Jimmy Sullivan, a neighbor got me a job there on the basis that I was a Technical student. I was taken on as his mechanist helper. I knew nothing
about the job. And Jimmy cared less. I was getting along there good when the boilermakers on the railroad went on strike. They were bringing into Ferguson-Allen locomotives to repair their boilers. My dad, a great union man, heard of it and made me quit. It was my first year of long pants and I felt big in my
made-over pants. I had up to that time worn knickers to high school. I saved some money that summer and opened a bank account. Guess it was just as well that I left as Jimmy was always playing tricks on me (taking advantage) such as sending me to the tool room to get a left-handed monkey wrench, putting me inside a boiler to hold a riveting gun (where I almost went deaf), making me climb the rafters of the building to get some tool that he had deliberately left there.
College Years
I graduated from high school in 1924 and that summer I obtained a job at the New York Central scrap yards. Our job was to sort out the different types of metal and put them in the right scrap cars. Brass went in one car, etc. The job paid well and was going good until long towards the end of summer the gang began to lay around and spend more time in the johns than on the job. We took our lunch and ate in whatever spot we happened to be at lunch time. One of the boys had a sister that lived close to the works and we would often go over there and eat our lunch and for 5 cents obtain a cup of coffee. I managed to put some money in the bank. During the early days of summer I had applied for a Law School Qualifying Certificate and was granted one and then obtained my admission to law school. My dad encouraged me.
I often got the idea that my mother thought that I was reaching out too far. My brother had entered work upon his completion of high school and I think mother thought that was sufficient education. Dad helped me with my tuition and I paid the balance.
I went back to work for Walbridge that year as a clerk selling sporting goods and working on their sample boards. They had erected a new building on Court Street -the old Walbridge Building. My recollection is that I got $35.00 a week. That Fall I went to work for American Express 6 to 12 PM. It paid 50 cents per hour. It was baggage loading and rough hard work.
During my Christmas break from Law School I became a floor walker for Walbridge.
The first year in Law School was rough. I made many friends. The class started out with 180 and only some 90 finally graduated. There was not much time for social life. The summer of 1925 I got a job on Lehigh Valley as a section worker. 40 cents per hour, a 10 hour day, paid me $4.00. I was not spiking ties long before the section foreman who lived in the neighborhood selected me to run the speed car for the track supervisor. My job was to pick him up at a Main Street station and drive him along the track to Batavia and Leroy. Sometimes we transported men from one section to the other to amplify the work force needed. I had a helper and his carelessness nearly cost us our lives one day. I told him to go into the downtown station and ascertain if the Black Diamond, the select passenger train of the Lehigh, was going to have a second section. He reported to me that it was not. Our speed car was insulated so that while it was on the track it would not throw the clock for clearance or stoppage of trains. If one was coming we merely took the speed car off the track at the next railroad crossing and put it back on when the train had cleared. One day we took off the car for passage of the Black Diamond and put it back on when it had cleared. I was watching the block back of me and noticed that the arm had dropped to caution and I then asked my helper if he had really checked and he said no. We had quite a time making it to the next crossing and getting the car off before the second section went by. I certainly raised Hell with him. By the way, he was some years later killed on that same road.
When not driving the speed car we laid ties. Not as they do now but by hand and they were spiked the same way. I used to take ten sandwiches, three for our first break, four for lunch and three for our afternoon break. Many the days I ate my lunch atop a friendly manure pile. Nothing spoiled my appetite. I made many friends amongst the Italians who later on became life long clients of mine.
My second year in Law School was a tough year. The subjects were more difficult and I had tried to keep working at some gainful employment. I went back to work part time at Walbridge Company. They had just moved into their new place on Court Street and were setting up sample boards to display hardware items. Having gone to a technical school I was supposed to have some knowledge of mechanics. I worked after school and on Saturdays. During the Christmas holidays I was taken on by Walbridge to act as a floor walker, a man who was a general source of information and a seeing-eye dog to see that the merchandise did not walk out of the store.
There was very little social life at the school which was attended at Old Townsend located across McKinley Monument and which has years ago been torn down. We had an occasional dance.
Money was scarce. I again made second year at law school and that summer -1926- obtained a job on the Great Lakes Transit Company's passenger ship as a deck Stewart and bell hop. The job itself only paid $1.00 a day but the tips were good.
It was still Prohibition and there were many excursions from Buffalo to Duluth taken by Elks and other organizations. The main object was a ten day drunk. Tips flowed like the drinks. That summer I made some $1,000.00. We left Buffalo on a Sunday night via Cleveland, Detroit, Mackinac Island, Houghton, Michigan, Ste. St. Marie and Duluth. We spent a day of each ten in Duluth. We were only one night in ten in Buffalo so we had no opportunity to spend. Our meals were of the best; our accommodations free as was our entertainment. It was an oddity to see girls that you knew around Buffalo take passage on the old Juanita, as the ship was called. There were girls who would not say boo or who would slap the face of a boyfriend if he put his hand on her who would get on the ship and just run wild. I had a particular instance where a nice looking gal who worked at the Buffalo Public Library, in the children's department, booked passage from Buffalo to Duluth and went wild for the trip. I found her one night in with the purser of the ship, McCarthy by name, as I was checking out on the midnight shift. There was a storm coming up and I was checking that the port holes were closed. The purser, who I did not like and I think the feeling was mutual, called me in and I said I had seen nothing. At least he did not hound me after that. The trip in those days carried about 8 gals to every fellow so that the young men who were on the trip found themselves in constant demand. I could go on to tell many the stories of the happenings on board but for the purpose of this account I think it would be rather inappropriate.
The Depression severely curtailed passenger steamship traffic on the Great Lakes. The City of Buffalo met its demise in March 1938 when it burned at its winter mooring in Cleveland as it was being prepared for the season (generally June – August). After World War II, passenger traffic continued to decline until only the liner South American docked in Buffalo. It ceased operations in 1969, signalling the end ofGreat Lakes passenger service out of Buffalo.
The last year in Law School was rough. I obtained a job at Shea's Buffalo ushering after school and evenings. In those days ushers were trained. You were told how to stand, dress and even breathe. The second night on not knowing the layout of the theatre too well, I ushered a couple into the Choir Loft. They were good natured about it. The captain of the ushers was a fellow law student who had authority over me. I never liked him. He was overbearing and abused those under him. One night he went too far. Much as I needed the job I lambasted him in the rear of the theatre and then left and went down to the locker room to take off my uniform and turn it in, as I would not have given two cents for my chance of staying on after that exhibition. I thought that I was long over that habit of mine of striking out but guess it was in me and had to come out. The assistant manager came to the locker room and asked what I was doing and I told him the circumstance under which I assumed I would be canned anyway. He said he did not like him either and agreed with me that he was an overbearing bum, but said that for peace I could not remain under him. He kept me on and put me on the switchboard on the upper floor of the show. I loved it! I was able to carry on with my studies and listen in to some very interesting conversations between the actors and actresses of that time. Shea's Buffalo at that period had some of the best floor shows out of New York.
Well, that year went somehow by and I took my final exams. I little expected to pass. I was a fair student but was up against students who had come out of the War and had completed a four year course in Arts or Science and were some eight to ten years older, and therefore I thought, much smarter. I felt so unsure of not getting by that I failed to purchase invitations for graduation. The method that the school had of notifying you was to post your name on the bulletin board. If your name did not appear you had failed. My name was on the list. I doubt that if it had not have been that I would have been able to repeat due to financial circumstances. I scurried around to those who had purchased invitations who did not make it and gave very short notice to my relatives and friends of the affair.
Needles to say my parents, especially my father and gal friend, Dorothy Herrmann, were very proud of me.
Well, I was finished so now what was I to do. I obtained a job for the summer on the ice truck carrying ice for George Schultz for $4.00 a day. I got so I could put a couple hundred pounds of ice on my shoulder and go up a flight of stairs for delivery. For this I had graduated from law school?
I knew no one in the legal profession to seek out a position to get a start. Towards the end of summer, I went over to see an old family friend, Dr. Albert Brennan on North Ogden Street. He had been the family physician for many years and was the examining physician for the Lehigh Valley R.R. for which my dad worked. His parents had run the Brennan Dairy farm. If you did not get milk from Brennan, you were not in the know. I told the Doc I thought I needed a physical. He looked at me and said, Norman, I know you are in perfect health but have a good guess why you came in to see me." His brother was William Brennan, who was then town attorney for Cheektowaga and the Village of Sloan. Without asking me, he went to the phone and called his brother and said, Bill I have a young man in the office from the neighborhood who just graduated from Law School and needs a job. I will send him in tomorrow morning. Put him to work." I went in to see Bill Brennan the next day and he started me at $10.00 a week. One of my law school buddies said to me how did you get such a good job?
I remained with Bill Brennan until the Spring of 1936 when I went to work for Uncle Sam. While I was with him, he became President of the Bar Association. His business was in part from my own neighborhood or the neighboring Town of Cheektowaga. He taught me what a lawyer should know. He had the patience of a saint. He would say to me, Norman what you have done might pass legal muster, but if you are going to be an attorney learn to write and talk as one person broke me into title work, which in my later practice was invaluable to me. He also introduced me to the corporate officers of the corporations that he represented.
One of the corporations was Harrison Engineering Company who built the State Office Building. I traveled rather extensively for them. I made trips to Chicago, Detroit, Cleveland, etc. One day Bill called me in and said Norman Mr. Harrison the president wants to see you in his office at Ellicott Square. I went over and he said Norman I want to speak to you about your expense account while on the road for Harrison. I said Mr. Harrison I have kept good account of what I have actually spent and that is what I put in, no more, no less. He said that is not the way we do business. You make us look bad. Never, but never put in a day's expense under $25.00 plus your travel expenses. That is what we allow on our books. Well, in those days it was a lot of money. When I was staying at Silver Creek to clear up liens for the Company it cost me $1.50 to $2.00 a day for a hotel and about $1.25 for meals. He never had any further trouble.
I must digress a little to pick up the World War I years and the year subsequent thereto. United States entered the War in 1917 and it seemed that every eligible young man in the neighborhood enlisted in some branch of service. Being in my teens I just did not pay much attention to it. One of the worst things that came out of the War was prohibition. New York State had repealed its Jones Law relative to liquor which left enforcement pretty much to the Old Prohibition agents. It instigated the era of the mobster, gangster and an era of bribery. It was the start of a time that we have not to this day got over. Buffalo being right on the Canadian border was a choice spot for the so-called rum runners. Any night along about sunset you could go down to the Falls on the Canadian side and see row boats, motor boats, etc. loaded and ready to make a run after dark. A favorite run was from Turkey Point to Angola where the boats would go into an underground canal, under a barn, etc.
A foggy night brought them out in force. The courts used to have bargain days where it would announce that anyone who wished to plead guilty would be Tined only a certain amount. Illicit breweries sprung up by the dozens. Rival gangs would knock each other off with regularity. It was only the big operators that
went to jail when they were caught.
I recall that the foot of Lovejoy Street was a favorite spot for the troop trains on the Delaware-Lackawanna Railroad to stop and let the boys out for a stretch. They would come in along Lovejoy Street in droves and crowd the local bars. In some bars it was on the house. I recall the day a truce was declared that the workers in the shops near Lovejoy Street came out and paraded along Lovejoy with their shovels and picks on their backs or whatever tools they happened to have in their hands when word came of a truce. Then the night that peace was officially announced, I went with my parents downtown. You could hardly move with the crowds along Main Street. They were dancing in the streets, bands were playing, horns were tooting and in general, the public went wild. We attended a show at the old Shea's Hippodrome; Charlie Chaplin was playing in "Shoulder Arms." It seemed that the celebration in one form or other went on for days.
I also failed to mention that during my college days I had worked part time at New York Central in the laundry department for the Pullman Company. I was a company clerk. It paid $54.00 per month part time. Jobs relating to R.R. were the best paying in those years.
In 1928, I became interested in politics. Jim Mead, then U.S. Congressman, and a Family Friend, called me in and wanted me to organize the Lovejoy Section. He suggested that we start a Lovejoy Business Association. Together with five others, I met at my home and started the nucleus of the Lovejoy Business and
Taxpayers Association. It still exists to this day. There were only twenty charter members. Only two of us are left. Jim also interested me in becoming a local Democratic committeeman for my district. I, from then on, became very active in the Democratic Party. We had a mayor, congressman, police commissioner, supervisor and councilman all From the Lovejoy District. Bill Brennan was an active member of the party in Cheektowaga along with John Stiglmeier, the then Town Supervisor. Those were great days.
I joined the 121st Cavalry in 1929 and remained in until 1931. We drilled once a week and went to Camp 2 weeks a year during the summer months. We drilled at Pine Camp, now Fort Drum. It was great sport -riding, shooting. The Cavalry Association had some twenty horses in the Boston Hills that we were permitted to ride on weekends. Dorothy became an active rider. You were permitted to take a guest on weekends to the Hills and ride. You paid $1.00 for your guest. Needless to say we had many good times. Also on a regular basis, we conducted musical rides at the Delavan Street Armory where you could take your gal friend for an evening ride with a dance and eats after.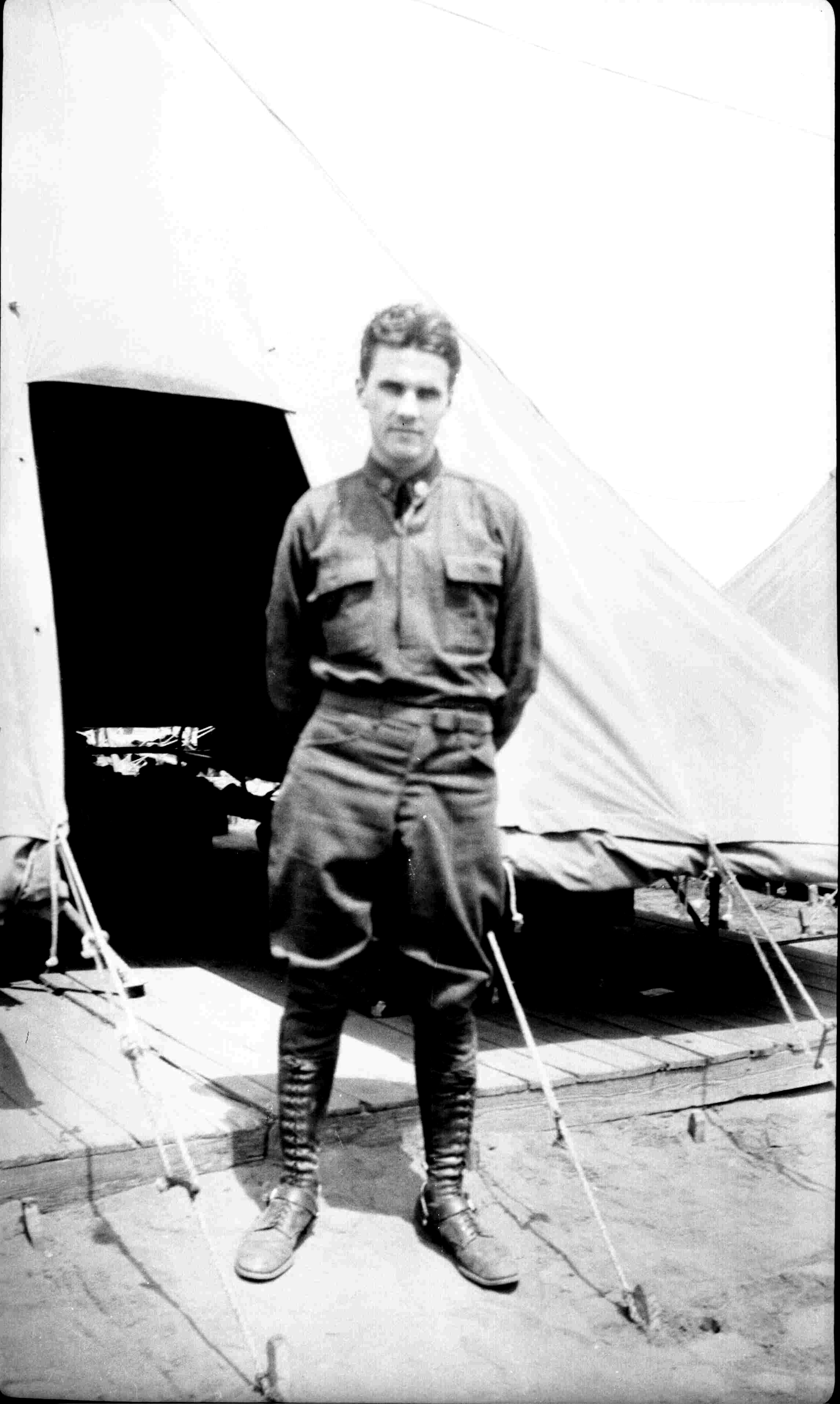 Dad at Pine Camp
Dad on his horse
Squad G, Dad at far right
About that time Dorothy and I were going on a pretty steady basis. The sidewalk between my home on Benzinger Street and Hennepin Parkway where Dorothy lived became quite worn.
Dorothy, fall 1908
Dad always said they met in the "go cart" (stroller)
———————————————————–
Bill Brennan paid me a salary for working for him and permitted me to take in work on the side, provided that I split the fee with him. I was doing quite well by the spring of 1932, the third year of the Great Depression. Many of my fel1ow classmates were not doing well. I was then 26 years of age and Dorothy 24. Dorothy had graduated from high school a year after me and took a comptometer course in that operation. She was doing quite well. We decided that we would get married. My dad was quite pleased. My mother thought I was still an infant and that I was quite sickly. In fact, I never felt better in all my life. My brother some four years older than me was still single and guess she thought that I should stand in line. We had other thoughts.
In June of that year I picked Dorothy up one day from work and drove her to see my friend Danny Kamphausen, who ran a wholesale jewelry and manufacturing place. I had previously told Danny that I wished to have him make an engagement and wedding ring as I intended to get married. Dorothy went quite innocently with me to his office and Danny said to her, "Stick out your hand." She was quite taken back, but complied. After taking her, measurement for the engagement ring to Dorothy's satisfaction, I said, "Now, what kind of a wedding ring do you want?" Two shocks in one day. We therefore became engaged in June and decided on a wedding date for August 1st.
To say that we had parties was to put it mildly. I had stags and Dorothy had innumerable showers. It was a busy summer.
The day came at last. St. Agnes Church was crowded to capacity. We had a very simple wedding. In fact, that is what we had planned from the beginning. Just my brother and Dorothy's sister Eloise standing up for us. The reception was at Dorothy's home. Her mother was not in the best of health so it made it a lot handier. I had invited to the Church only my cousins, on my Father's side, from the country. Well, they came in the night before and naturally had to be included in the reception. It made it rather crowded. In making our plans for our honeymoon, Europe seemed the place to go. We pooled our money and had purchased a six week tour of England, France, Belgium and Holland on the Cunard Lines out of New York City. We had to be in New York a day before sailing as it was necessary to have Dorothy's name added to the passport in New York City. After the reception we left on the Empire State Limited for New York which left Buffalo at 2:00 PM. We did not have a hotel reservation so asked the conductor on the train of a place near the station. It was a very nice hotel and meals were very good.
Norm & Dorothy August 1932
We sailed out of New York City on Wednesday, August 3, 1932, on the Mauretania, a Cunard liner, which at that time was the fastest ship afloat. In fact, the year we sailed, it was 25 years in service and due to be beached that year as Lloyds of London would not insure it after that date. It was a fine trip, some five days. The meals aboard ship were the very best. Everyone ate as though there was no tomorrow. You had an average of some five servings a day. Each evening there was dancing and a tray of sandwiches left for disposal. The people on the trip were for the most part very agreeable. The ocean was smooth and very few suffered the mal de mer.
Cunard postcard of S.S.Mauretania from the era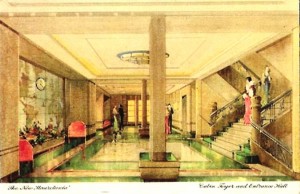 The Cabin foyer & entrance hall
3rd class cabin
Dorothy, far right and lady passengers on the boat to Europe
When we arrived at the coast of Ireland it became cold. I was in the upper bunk and got a cold from the vents. We landed at Plymouth. The harbor there was not deep enough to accommodate a landing of a ship that size, so they took us off the ship on tenders. It was a beautiful city at that time. It was later to be flattened by a German raid during World War II.
Plymouth Harbour 2004
Busses were provided with blankets as it was chilly. The trip via Exeter to London was one that is hard to forget. Harvest was at its best. Wheat was in the beginning of harvest and poppies were growing in between rows of grain. Thatch cottages abounded. Instead of having their flower gardens in the back of the yard they were encased with a stone wall in the front of each home. It was a beautiful sight. We made a stop for lunch enroute to London at an old Village Inn which was in itself worthy of an artist's painting. The food was good if a little different that we were used to eating. As we neared London, the heat became stifling. In fact London that year broke all records for heat. We had a small hotel on the outskirts of London proper known as southwestern London or as the natives pronounced it Soukens.
—————————————————
(Note- New York Times articles from the era:)
Fog Halts Channel Swimmers;
England Swelters in Heat Wave
By The Associated Press.
August 11, 1932, Thursday
Page 2, 119 words
http://select.nytimes.com/gst/abstract.html?res=FB061EF8355A13738DDDA80994D0405B828FF1D3
CHANGES IN LONDON ASTONISH TOURISTS; The Once Conventional British Adopt Bright Clothes and Even Pajamas. OUTDOOR CAFES POPULAR Beaches Enjoy Record Season, Owing to Warm Weather and Spend-at-Home Campaign.
Wireless to THE NEW YORK TIMES.
September 4, 1932, Sunday
———————————————-
After the Honeymoon we arrived home only to find that my Mother and Dad and brother, etc. had gone on a motor trip to the New England states. I guess my mother could not stand the thought of her little boy sleeping with some woman. While we were away my Dad rented a lower flat for me at 244 Benzinger Street. It was owned by a family by the name of Eichinger. The rent was $28.00 per month.
My Uncle Hank, who at that time was living with Mother and Dad, moved in with us for meals while they were gone. One day he showed up with a tea kettle, another with an alarm clock, etc. I found out later that on one of his visits to the local bakery shop operated by Steierts on Lovejoy Street that he was questioned by them about my ability to financially afford a trip to Europe. My Uncle said what do you mean afford it? I have been to Norman's house in the evening when he was closing up his office for the day and he had a hard time closing the drawers in his desk with the money he had stuck in them. The fact that the Steierts received a card later, although somewhat delayed from Europe convinced them that we really had been across. Dorothy never after we were married ever became gainfully employed. Neither one of us thought that it was the thing for a wife to work outside the home. We got by, believe it or not, on a dollar a day. We had even managed to purchase a car.
Milk was 5 cents a quart, bread the same and you got more than enough meat for 35- 50 cents for your meal. Of course, we were somewhat supplemented like most newly married couples by meals of invitation from our parents and friends. Sunday dinner at my
folks' place or Dorothy's place was a must.
Our first dinner on Sunday after our return was a memorable one at Dorothy's mother's. I knew that I was going to be asked the question as to how we were getting along. I was prepared for it. I told DMK's mother that she was a fine wife but not much on mending and sewing. She asked what I meant by that. I opened my shirt and displayed to her an undershirt that was full of holes and ragged. I took off my shoes and the toes of my socks showed through. Dorothy was called to task and I also after I got home.
The Steinerts pasted the card in the bakery window. It was hard for the neighborhood to believe that we went to Europe because we had such a quiet wedding. You see I had prepared before time for the event. We had little furniture. Some Persian throw rugs that had been given to me by Bill Brennan when I got married. No living room furniture. An old ice box and a bedroom set that had been given to us. I used a small room in the house for an office in the evenings to bring in extra capital. The memories of that first year were both good and disastrous. We did not make it with our first born in the year of May 1933. I do not wish to go into it. It is still a painful memory. The Lord certainly made up for it – 34 years ago today when we had twins.
I progressed steadily in politics. I was very active in the Democratic Party during the Depression, when work was a thing that seemed impossible to get. Roosevelt enacted a P.W.A. and other projects to get the economy going. Carpenters were given carpentry jobs, etc. Public Works were the big thing. Gangs of men were hired for some $15.00 per week to work repairing streets, etc.
During the winter months I opened what looked like a soup kitchen in my basement. I let the workers come in the basement and eat their lunch and make their coffee and eat DMK's pickles. It got so that the word went around that if you wanted a job you first of all had to start in Kirchgraber's basement. I was influential in placing many friends in public positions in those days. We organized a man-a-block work schedule. We collected 50 cents from 30 people and they would then designate someone in the block to receive the payment. The payee was to take out your garbage, clean your sidewalks, etc. It was a horrible time.
Welfare was practically non-existent. What the private sector provided and the local charity organizations handed out was all most people had to live on.
Believe it or not to retrogress a minute, I joined the 121st Cavalry on Delavan Street in Buffalo, New York, and we would have riding each week. Some twenty horses provided us with steeds in the Boston Hills .Dorothy learned to ride , and for $1.00 you could take your girl with you. We had several musical rides at
the Armory. After the ride we would have a dance and feed. We had camp in what was then known as Pine Camp and later Fort Drum. We arose each morning at 6:00 AM and by seven we would be prepared to ride, having in between cleaned and fed our horse, ate our breakfast and showered.
I will never forget one weekend when we had off. Bud Bardey, a neighbor of mine and a Sergeant, decided to get out of Camp. We hitched a ride to Watertown and then along came a Cadillac with only the driver. He picked us up and said he was going to Ogdensburg. We had our uniforms on of course, our dress ones, and we looked quite snazzy. Every once in awhile he would make a stop and delivery. It was not until we had about reached Ogdensburg that it was apparent that he had been using us as a front. He was a bootlegger, making his deliveries on the way.
It was hard work at Camp but loads of fun. I qualified as sharpshooter with rifle, 45 automatic and machine gun. When you got home you would be down about 5-7 pounds and feel like a million dollars. Just before our marriage and in 1931, I got out. I was quite busy, especially evenings between doing work
for Bill Brennan in the night Justice's Court and seeing that no one else took out my gal friend.
1932 was a banner year for the Democrats. We swept everything -US, state and local. In the spring, inauguration was then on March 20th, I went to Washington with a special train load of fellow Democrats. We left in the evening and believe you me, we did not get much sleep on the train that night.
Washington was a mad house. Hotels and restaurants were packed. I remember we stayed at the Statler. The inauguration itself was something to see. Jim Mead had procured a seat for me within 30 feet of the President's podium. I believe that somewhere I have a picture showing how close I was. Jim and I had quite a discussion before I left. One job that I wanted out of it was Assistant U.S. Attorney. If I had only then realized what strength I had with Mead and others, I could have been U.S. Attorney.
At a meeting at Postmaster Driscoll's house in Clarence, at which were George T. McGowan, Internal Revenue collector, Bill O'Brien, customs collector, John Love, Commerce, Bill Riordan, Deputy U.S. Marshall to Buffalo and others, I was asked by Postmaster Driscoll why I had not gone out for U.S. Attorney.
This was the situation. You will note that all of whom I have named were of Irish descent. Well, Charles Desmond had been originally sent to Roosevelt for U.S. Attorney and when it hit Roosevelt's desk, he called in Vincent Daly and James Farley and said, "What the hell, do you not have anything but Irish
Catholics for Federal Office." Not having an Irish name I could have qualified. None of those named herein liked George Grobe. He had been brought up in the neighborhood with Jim Mead and myself and in those days the feeling was not as ecumenical as it is now. George was a Methodist and they could not forget it.
George Grobe's name was sent to Washington and Jim Mead reluctantly okayed it.
In 1934 I was asked to run for Judge. Every Democrat in Buffalo that ran that year was elected. Due to the fact that the U.S. Attorney's term under the Republicans was not out until 1934, I did not take office until March of 1935. I had been 7 years with Bill Brennan and he was a fine teacher and I hated to
leave him. But there was a depression on and I wanted security more than anything else for myself and family. That security that I took then lasted for almost 21 years. I had learned title examination under Bill Brennan, so when I entered the U.S. Attorney's Office, I immediately had charge of all real property work. I think my years in the U.S. Attorney's office needs separate treatment so I will not go into the years and duties of that office.
(Note: following is a link to a recent write-up on Dad's most famous case, the Antonelli fireworks case.
Dad talked about this case frequently.)
http://www.aggregat456.com/2007_06_03_archive.html
————————————–
Grandma Dundon, Grandma Kirchgraber, Norm & Dick
————————————————————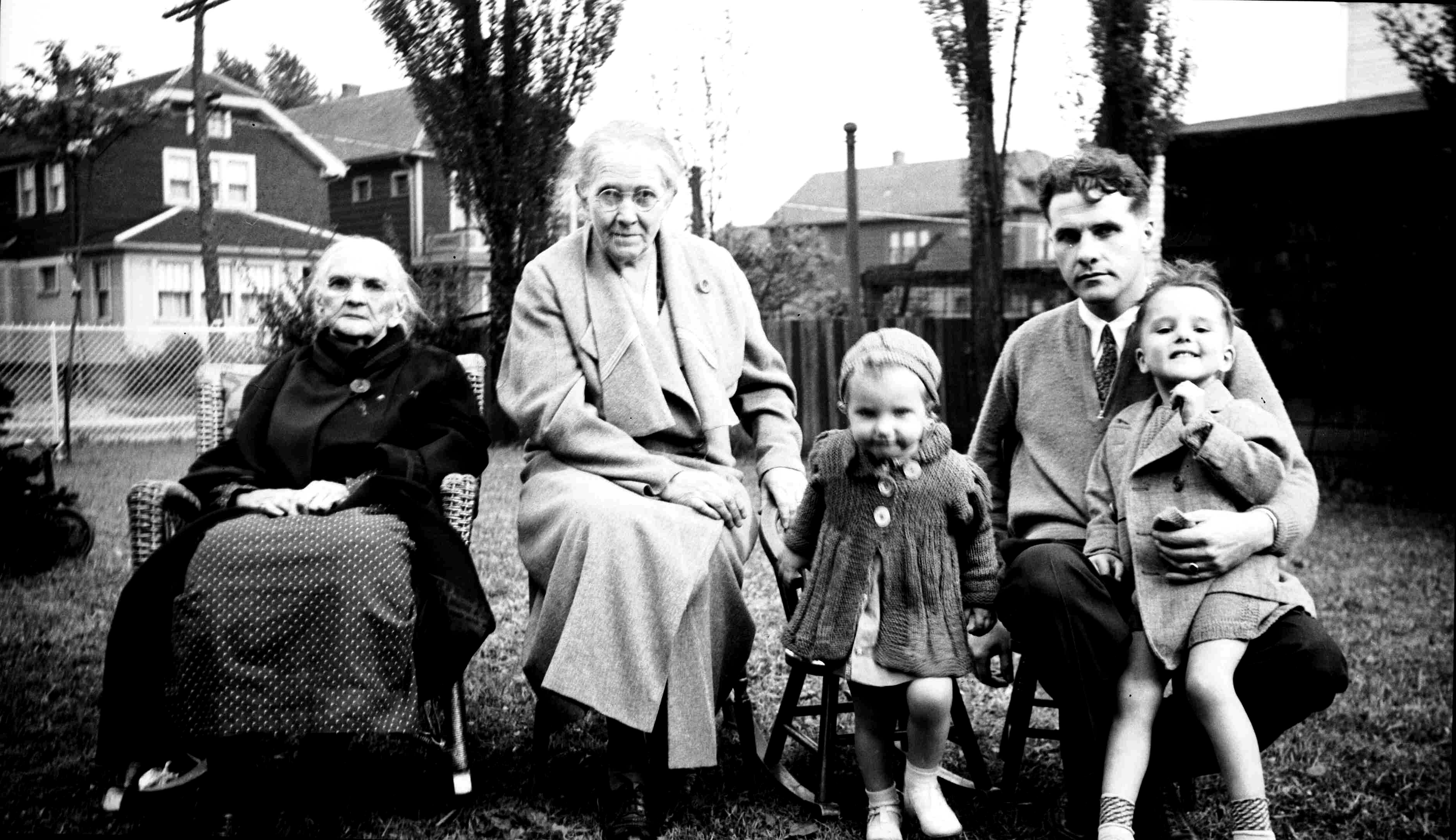 Grandma Dundon, Grandma Kirchgraber, Mary Lou, Norm & Dick @ 1037

In 1936 I had offered to me 1037 Lovejoy Street. We had only Dick then, but Mary Lou was on the way in May. I purchased 1037 and started to fill it up. Although the place was fairly new at that time there was quite a bit of work to be done. The hard wood floors had been neglected~ water was in the cellar due to a clogged drain, etc. There was a $5000.00 mortgage on the house when I purchased it. I could not wait to get it paid off. I paid it off believe it or not in $10.00 and $20.00 amounts. I wanted in the event that something happened to me to have my home paid for.

EARLY PICTURE OF 1037. SHOWN HOLDING DAUGHTER IS Bud Phillips
1037 RECENT PHOTO GOOGLE MAPS
I think most of you children, as well as me, remember the numerous changes that were made to 1037. It was the finest home in East Buffalo when I purchased it. I was very proud of it. After living in it for almost 50 years of happiness you can perhaps realize some of my reluctance to move out of it. I loved my home. I had had some many happy moments in it. I had seen my children grow into manhood and womanhood, seen them given the best education that I could afford and seen them all happily married. Their children, my grandchildren are the compensation of old age. How you do learn to love them the same as your own.